Category: Elkton Road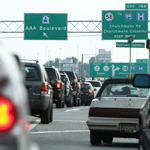 Facebook Twitter Flickr YouTube RSS Feed
Written on: November 4th, 2011 in Elkton Road
The repair work to an approach slab on the south end of the project is scheduled to occur this weekend.  The Contractor will be performing a minor traffic switch this week at Casho Mill Road and plans to close the Elkton/Apple Road intersection this weekend for paving. Scheduled Completion Date: December 17, 2012
Read More
Written on: August 29th, 2011 in Elkton Road
Amstel Road was re-opened the week of August 8. 
Read More
Written on: July 15th, 2011 in Elkton Road
Amstel Avenue between Elkton Road and College Avenue in Newark is closed.  The contractor has started construction of a box culvert, and is scheduled to re-open Amstel Avenue in August prior to the start of the fall semester for University of Delaware.  The entire project is scheduled to be complete in December 2012.
Read More
Written on: June 16th, 2011 in Elkton Road
Amstel Avenue between Elkton Road and College Avenue in Newark will be closed starting on Monday, June 20, and end on Friday, July 15, pending weather.  The contractor will construct a box culvert, install water and sewer mains, construct ADA curbs with sidewalks, and pave the roadway.  The entire project is scheduled to be complete […]
Read More
Written on: May 23rd, 2011 in Elkton Road
Phase 3 is scheduled to begin on May 31st.  This phase is the disincentive period where the contractor must reconstruct the northbound lanes of Elkton Road before the University of Delaware's fall semester begins in August.  The City of Newark has added sanitary sewer work to the project that may delay our contractor's work.  Work […]
Read More
Written on: April 21st, 2011 in Elkton Road
A value engineering proposal (VEP) has been proposed to and accepted by the Department to allow the contractor to enter into Phase III traffic pattern earlier than planned. The proposal allows the contractor an alternate method to install the new water main.  The VEP change will save DelDOT money  and will give the contractor a […]
Read More
Written on: March 22nd, 2011 in Elkton Road
The project includes pavement reconstruction; additional turn lanes at the intersections of Elkton Road and Casho Mill and Apple Roads; reducing Elkton Road between Apple Road and Delaware Avenue from four to two lanes with a two-way center turn lane and a landscaped median just south of the Amstel Avenue Intersection; new sidewalks and curb […]
Read More
Written on: January 19th, 2011 in Elkton Road
The contractor will be removing existing road surface from Gravenor Lane to Short Lane. Drainage pipes are being installed from Short Lane to West Park Place and the sewer line is being replaced from Rittenhouse Road to Old Barksdale Road. The contractor, Greggo & Ferrera, will have intermittent lane closures as needed. Delmarva Power will be closing […]
Read More