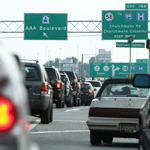 Facebook Twitter Flickr YouTube RSS Feed
Elkton Road Construction – Update
Written on: March 22nd, 2011 in Elkton Road
The project includes pavement reconstruction; additional turn lanes at the intersections of Elkton Road and Casho Mill and Apple Roads; reducing Elkton Road between Apple Road and Delaware Avenue from four to two lanes with a two-way center turn lane and a landscaped median just south of the Amstel Avenue Intersection; new sidewalks and curb ramps; bike lanes; and utility improvements. 
The Contractor has begun replacing the existing sanitary sewer system along the length and the full width of Elkton Road using a combination of open cuts and the pipe bursting method.  DelDOT has reached out to the businesses along Elkton Road to discuss plans for meeting prior to the Amstel Avenue closure in May.  The purpose of the meeting is to discuss and address logistical concerns associated with the closure.  The Contractor is on schedule to begin the incentive/disincentive work between Apple Road and Delaware Avenue in May.  The project is expected to complete in late 2012.
For more information, please visit the project page by clicking here.