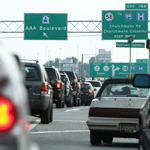 Facebook Twitter Flickr YouTube RSS Feed
Archived Posts From: 2017
Written on: July 31st, 2017 in SR141
SR141/I-95 Ramp Interchange Project
July 31, 2017
The contractor, Mumford & Miller Inc., will continue placing fill for widening I-95 northbound acceleration lane from SR 141. They are working on installing utility infrastructure through the SR 141 and I-95 northbound corridor. The contractor is reconstructing the ramp for Exit 3A, northbound SR141 to northbound I-95 with pavement, curb, guardrail, and barrier. They are installing a stormwater drainage system on this ramp and on SR 141 northbound. The contractor has begun clearing vegetation on SR 141 southbound on the closed side of the roadway. They are demolishing existing SR 141 southbound bridge and constructing foundations for the new bridge.
LANE CLOSURES:
There will be intermittent lane closures on I-95/I-295 starting Thursday 8/3/17 evening through Friday 8/4/17 morning, 7PM to 5AM.
Motorists should expect traffic on SR141 southbound and northbound to be reduced to one lane in the construction area during the hours of 9AM to 3PM, Monday thru Friday.
Ramp Exit 5B (NB I-295 to NB SR141/Newport) remains closed until late October 2017. northbound SR141/Newport should use Exit 5.
Ramp Exit 3A (NB SR 141 to NB I-95) will be closed until late August 2017. Motorists traveling on SR 141 northbound will follow detour signs to US 13 northbound to I-295 to I-95 northbound.