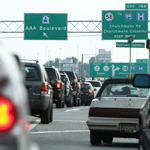 Facebook Twitter Flickr YouTube RSS Feed
SR141/I-95 Ramp Interchange Project
Written on: January 5th, 2017 in SR141
SR141/I-95 Ramp Interchange Project
December 16, 2016
The contractor, Mumford & Miller Inc., continues constructing the concrete structures for the new bridges on SR141. The contractor will continue to place fill for the widening of SR141 southbound and northbound to I-95. This week, beam installation will begin on SR141 southbound and the placement of storm drains on SR141 northbound.
LANE CLOSURES:
There will be the nightime closure of Exit 2, SR141 SB to I-295 NB, on Tuesday and Wednesday evening from 7PM to 5AM along with multiple lane closures on I-95 and I-295. (See Traffic Alert below.)
Motorists should expect traffic on SR141 northbound and southbound to be reduced to one lane in the construction area during the hours of 9AM to 3PM, Monday thru Friday.
Ramp Exit 5B (NB I-295 to NB SR141/Newport) remains closed until late June 2017. Northbound SR141/Newport should use Exit 5.
TRAFFIC ALERT:
Nighttime Closure of Exit 2/SR 141 SB to I-295 NB for Placement of Bridge Beams
WHEN: 7 p.m. until 5 a.m., each night
Tuesday, December 20 evening and end at 5 a.m. on Thursday, December 22
WHERE: Exit 2/SR 141 southbound to I-295 northbound
WHAT: The Delaware Department of Transportation (DelDOT) announces that their contractor, Mumford & Miller Concrete Inc. will be placing beams on the bridge over I-95 and I-295. Due to lane closures on I-95 and I-295 during the placing of the beams, motorists heading northbound will experience delays.
Motorists traveling on SR 141 southbound will follow detour signs to U.S. Route 13 north to I-295 to I-95 northbound.
Detour signage will be posted for motorists.