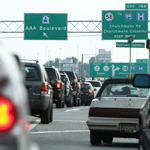 Facebook Twitter Flickr YouTube RSS Feed
SR141/I-95 Project Update July 1, 2016
Written on: July 6th, 2016 in SR141
SR141/I-95 Ramp Interchange Project
July 1, 2016
The contractor, Mumford & Miller Concrete, Inc., will continue the clearing of SB 141 southbound along with the placement of fill as they prepare for the widening of the bridge over I-95 northbound. The contractor will be installing and pinning barriers on SR141 northbound in preparation for the demolition of that bridge. On Friday evening, July 8th, the contractor will close one lane of NB 95 for the placement of barrier.
LANE CLOSURES:
Friday night, July 8th, one lane on NB I-95 will be closed leaving three lanes of traffic for motorists.
Motorists should expect traffic on SR141 northbound and southbound to be reduced to one lane in the construction area during the hours of 9AM to 3PM, Wednesday thru Friday.
Ramp Exit 5B ( NB I-295 to NB SR141) is closed until late June 2017.
There will be no lane restrictions on Monday, July 4th or Tuesday, July 5th.