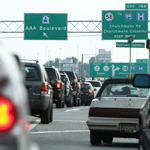 Facebook Twitter Flickr YouTube RSS Feed
SR141/I-95 Project Update May 13, 2016
Written on: July 1st, 2016 in SR141
SR141/I-95 Ramp Interchange Project Update
May 13, 2016
The contractor, Mumford & Miller Concrete, Inc., will continue to drive piles along southbound SR141. Work continues on clearing SR141 southbound in preparation for bridge widening over I-95 northbound. Delmarva is working on a temporary relocation of a gas main off of the SR141 northbound bridge over I-95 in preparation for the widening of that bridge. There will be evening stripping operations.
LANE CLOSURES:
Motorists should expect traffic on SR141 northbound and southbound to be reduced to one lane in the construction area during the hours of 9AM to 3PM, Monday thru Friday.
There will be intermittent lane closures on SR141 and on northbound I-95/I-295 from 6PM to 5AM.
NEW TRAFFIC SIGNAL:
A temporary traffic signal has been installed on northbound 141 at Airport Road. On Tuesday, May 17th, the light will be set on a flashing mode with full activation taking place on Friday, May 20th. Once the light is activated, no left turns from northbound SR141 onto Airport Road will be allowed.