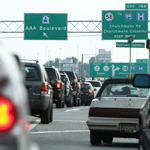 Facebook Twitter Flickr YouTube RSS Feed
Archived Posts From: 2016
Written on: April 13th, 2016 in US 301 Project Updates
Monday, April 11, 2016 through Saturday, April 16, 2016
Begin dirt hauling activities on Hyetts Corner Road. Motorists should anticipate eastbound or westbound lane closures on Hyetts Corner Road between Airmont Drive and Windsor Commons with traffic alternating through the work zone utilizing a flagging operation by construction personnel from 9:00 a.m. to 3:00 p.m.
Begin work on relocating the ESNG Utility. Motorists should anticipate a lane shift on Summit Bridge Road, north and south of Armstrong Corner Road with both travel lanes getting through the work zone from 8:00 p.m. to 6:00 a.m.