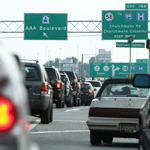 Facebook Twitter Flickr YouTube RSS Feed
Archived Posts From: 2015
Written on: December 18th, 2015 in Route 26
In addition to our regular weekly lane closures, the Delaware Department of Transportation is pleased to announce that on Wednesday, December 16, 2015 , the 1 mile section of Route 26 between Old Mill Road and Woodland Avenue has been line striped to the ultimate traffic pattern and opened to the traveling public for use.
Please find attached for your use the anticipated work schedule and associated lane closures for work on the SR 26 Mainline Improvement Project along with maps for the SR 26 corridor for those of you who may not be familiar with the area.
Travel times to and from your destination may be quicker if you use one of the SR 26 Alternate Routes that were constructed prior to the start of the SR 26 Mainline Construction Project. The recently reconstructed roadways include:
• Burbage Road, from SR 17 to Windmill Drive
• Windmill Drive to SR 26 to Central Avenue
• Central Avenue, from Windmill Drive to Beaver Dam Road
• Beaver Dam Road, from Central Avenue to Muddy Neck Road
For more information on the Alternate Route Project, visit our website at https://deldot.gov/information/projects/sr26
The Department of Transportation (DelDOT) reminds drivers to expect extra traffic in Delaware starting as early as Monday, December 21. Planned lane closures on Delaware's multi-lane highways will be suspended at midnight on Thursday, December 24, and will resume at midnight on Monday, December 28. Traffic accidents and other unpredictable types of transportation incidents may cause lane closures and/or delays.
The warmer than normal temperatures forecast for the holidays means more pedestrians and bicyclists will likely be interacting with traffic this year. Motorists are asked to be on the lookout for both. Pedestrians are reminded to use designated sidewalks and marked road crossings; and bicyclists are reminded to use bike paths and lanes where available. Both should wear bright clothing and use a light, if out during night or low light conditions.
DelDOT's Transportation Management Center (TMC) will monitor and adjust computerized traffic signal systems in response to increased demand and/or incidents.
Motorists can check DelDOT on line and on your web enabled cell phone at DelDOT Mobile for updated travel-related information or tune to WTMC 1380 AM for up-to-the-minute traffic conditions