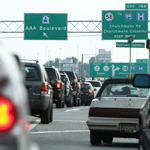 Facebook Twitter Flickr YouTube RSS Feed
Construction Advisory Group Meeting Minutes – May 13, 2014
Written on: May 22nd, 2014 in General
The meeting was called to order at 10:05AM by Ken Cimino of AECOM.  Ken welcomed everyone in attendance and thanked them for their participation in the meeting and for their commitment to their community.  Ken then asked each of the members of the SR 26 Project Team to introduce their selves.
 The first order of business was to ask if the group had reviewed the minutes from meeting #1 and had any questions or comments.
 The meeting moved forward with Len Brooks and Mike Delp from George & Lynch, Inc. giving a brief project status update.  Len advised that force main location #1, which was in the intersection of SR 26 and Central Avenue, was completed.  Len then advised that work had commenced on force main location #8 and force main location #9, which are located between Town Road and the Assawoman Canal.  Len also advised that construction of the new Storm Water Management Pond #331, located west of Irons Lane in Clarksville, had also commenced.
 The next topic of discussion concerned a Tidewater Utility, Inc. contract that was recently awarded to George & Lynch.  Len indicated that work had commenced on the installation of approximately 10,000 feet of new water main that extended from the limits of the Town of Ocean View to just east of SR 17 (Roxana Road).  Ken advised the group that this new water main project was separate from DelDOT's SR 26 Mainline Project and that any questions or concerns should be addressed to Tidewater Utilities, Inc.  The Tidewater Utility, Inc. representative for this project is Mr. Greg Coury, Project Engineer.  Mr. Coury can be reached at (302) 734-7500 or by email at gcoury@tuiwater.com.
Ken gave an update on the completion of the force main relocation work at SR 26 and Central Ave.  Central Avenue was closed at SR 26 on Tuesday, April 1, 2014 and reopened to traffic on Thursday, April 23, 2014 after 22 days of construction.  This was well ahead of the anticipated construction duration of four (4) to six (6) weeks.
 Ken next addressed some of the concerns that the project team received concerning the closure of Central Avenue at SR 26.  Specifically, many residents believed that DelDOT detoured traffic through the local community.  Ken explained that DelDOT's posted detour route directed motorists along DelDOT owned and maintained roadways and did not encourage motorists to "cut through" the local communities to reach SR 26.
 Len next discussed future planned construction activities that George & Lynch would be working on.  Specifically, Len indicated that Georg & Lynch would be focusing on upgrading intersections along SR 26.  These intersections are located at SR 26 and Old Mill Road and SR 26 and Cedar Avenue.
 Ken gave a brief overview of what residents can expect in the form of lane closures from May 15th through September 30th.
No Day Time Lane Closures allowed May 15th through September 30th
Lane Shifts allowed Tue., Wed., Thur., 6:00AM to 6:00PM
Night Time Lane Closures allowed Mon., Tue., Wed., Thur., 7:00PM to 6:00AM
 The presentation portion of the meeting wrapped up with Ken giving a brief update on the Project Team's Community Outreach efforts.  Ken mentioned that the Project Team had a Spring Planning meeting with the Emergency Services Working Group on Thursday, April 24, 2014 at the Millville VFD 84 Fire Station.  The meeting was to review how coordination between the Emergency Responders has been when the contractor has had lane closures.  To date, there have been no significant issues or concerns.  The Emergency Services Working Group has developed a Standard Operating Procedure (SOP) for moving Emergency Response Vehicles through the work zone during lane closures.  The group will be meeting again on June 5, 2014 to review operations after the Memorial Day Holiday.
 The floor was then opened to questions, comments and concerns from those in attendance.
 Q.  I was told at a meeting this morning that the entrance to a particular business was going to be closed for up to two weeks when road construction was occurring in front of this business?
A. Ken assured the attendee that business and residential entrances would remain open during construction activities.
 The meeting was adjourned at 10:25AM.  DelDOT's Public Relations staff will send out a notice for the next meeting of the SR 26 Construction Advisory Group.