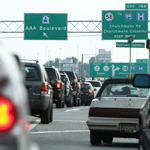 Facebook Twitter Flickr YouTube RSS Feed
US Route 301 Archaeology Update
Written on: March 25th, 2014 in Archaeology Updates US301
Cardon-Holton Site 7NC-F-128 (Hunter Research, Inc.)
Analysis is underway on the data from the Cardon-Holton site 7NC-F-128.  Hunter Research, Inc. is currently working with a range of specialists to explore different types of material recovered in the excavations.
The most exciting information to date comes from the preliminary examination of the wood recovered from the well feature at the Cardon-Holton site 7NC-F-128 by the Oxford Tree-Ring Laboratory.  This has provided us with two dates: 1737 and 1753.  The on-going study of historic wells in Delaware indicates that very few firm dates exist, and most are derived from artifact evidence rather than the much more precise information from tree rings. Conservation of the wood from the well is underway at the Maryland Archaeological Conservation Lab, providing a preserved example of dated well-timbering from Delaware.
Our assumption is that the two dates reflect the initial construction and a subsequent repair/replacement of structural members of the well casing.  Archaeological evidence suggested the well had been either deepened or repaired, as the upper portion exhibited signs of shoring atypical of normal well construction.  Deepening of the well may have been in response to a drought.  Repairs are common for wooden wells given their perishable nature in an environment with a fluctuating water table.
The two dates can be compared with the site occupation range of 1720 to 1740 suggested by the ceramic assemblage.  As the site was situated adjacent to an intermittent stream and a likely spring head, there may not have been a need for a well initially… until perhaps a drought caused their water source to dry up.  Was the well constructed in response to a drought which caused the spring head to run dry during the occupation?  Initial research shows that a severe drought hit the region in 1730.  Could the well have been maintained or re-established for agricultural use after the domestic occupation had ceased to exist at the site by the new owners of the property who established a residence immediately to the north at the Holton-Cann site?
Just as interesting is the initial examination of the faunal materials by Adam Heinrich, who has identified not only the remains of a very old horse and cow, but also coyote and bear teeth!
Other specialists are analyzing soil samples for chemical signatures, macro-floral remains, phytoliths and pollen remains.  These studies will help to piece together a picture of the former environment at the site.