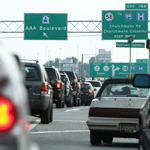 Facebook Twitter Flickr YouTube RSS Feed
Demolition Continues on Old IR Bridge
Written on: December 5th, 2012 in Indian River Inlet Bridge
Demolition work continues at the old Indian River Inlet Bridge.
As of last week, the demolition sub-contractor has returned to the site mobilizing personnel, materials, and equipment. The contractor has started working on setting up scaffolding and safety lines for crews to access the remainder of the old bridge structure. This will continue through this week. In the coming weeks, the contractor will be working on preliminary setup work for the removal of the bridge girders. None of this work is expected to impact pedestrian or marine traffic at this time.
Bridge girders are expected to start rolling off of the substructure during the month of January. The removal of the piers and remaining substructure will start soon after. Pedestrian and marine traffic will be impacted during structure removal activities. As work progresses and activities approach the time to impact, traffic notices will be provided to the public outlining the schedule of impacts and their dates. The demolition work is expected to be completed in early spring depending on weather.