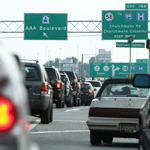 Facebook Twitter Flickr YouTube RSS Feed
Archived Posts From: 2012
Written on: April 27th, 2012 in Route 54
April 26, 2012 – DelDOT is making good progress on the Route 54 construction project, despite a few rain days during the week of April 18-April 26. 
The contractor is continuing to work on installing the three lifts of asphalt pavement. On the north side of the project, the first lift has been completed, and the second lift of asphalt is 90% complete.  The contractor believes the third lift of asphalt will be started around May 1 or 2, but the logistics are still being worked out with the contractor.
We continue to work on finishing concrete work throughout the site and note that the sidewalks on the north side are 60% complete.  Some of this is handwork, so it is more time-consuming.  The contractor will continue to work on the concrete work into early next week.  By May 1st all sidewalk work should be done on the north side of the road.
Material deliveries to the site have been meeting our expectations, and we are having productive conversations with the contractor.
 During our weekly conference call two issues were raised:
The need to mark the manhole covers so that they are more visible in the dark or rain.  DelDOT will work with the contractor to get these marked (possibly with reflective tape).
A request was made to try to have the contractor remove some of the debris on the sides of the road.   DelDOT will work with the contractor to start to get these areas cleaned up.
We continue to make progress in an effort to reach our goal of substantially completing the project by Memorial Day weekend.
For more information, please visit the project page.