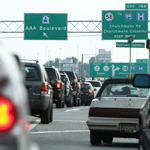 Facebook Twitter Flickr YouTube RSS Feed
Route 54 Project – Updates
Written on: April 4th, 2012 in Route 54
As of March 26 the Contractor has added an additional crew resulting in a total of 3 crews.  The crews are performing excavation of the existing roadway, minor drainage and placement/grading of stone base course for asphalt, curb and sidewalk.  In addition to the 3 crews for the general contractor there is 1 crew for the concrete subcontractor placing curb.  The curb is approximately 60% complete and is expected to be entirely complete in the next week or so.  The concrete subcontractor is expected to begin placement of the sidewalk on April 9th and is expected to take approximately 2 weeks to complete.  Placement of asphalt paving is expected to begin April 9th.  The asphalt consists of multiple layers.  We will begin with placement of the base course.  Following that we will place a wedge course that adjusts the road to the new grades and then on top of that is another base course.  The base course is expected to be approximately 90% complete by the Memorial Day holiday leaving only the small remainder of the base course, the final surface course, final striping and traffic signal work to be complete after Memorial Day.
We are doing our best to limit the use of lane closures, but in the cases where they are needed we are keeping them to a minimum length while still maintaining safety of the motorists and workers.
For more information, please visit the project page.