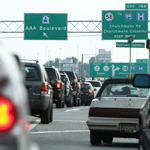 Facebook Twitter Flickr YouTube RSS Feed
I-95/SR 1 Interchange Project – Update
Written on: August 29th, 2011 in I95/SR1 Interchange
It is expected that work will begin in mid-September, 2011 and continue until October 2013.
Christiana Mall Bridge
The abutments and center pier are completed.  We are expecting the steel beams that will cross over SR 1 to be delivered in mid-September.  The contract is expected to be complete by the end of 2011.
For more information, please visit the project website.