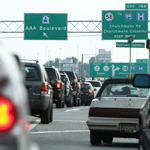 Facebook Twitter Flickr YouTube RSS Feed
DelDOT crews at work – monitoring conditions
Written on: January 26th, 2011 in Weather Related Notices
The precipitation expected to impact Delaware began throughout the state earlier than expected.  Department of Transportation (DelDOT) crews are at work, and are responding as needed in different parts of the state.
 In DelDOT's North District (I95 and North) and Canal District (south of I95 to Kent County), primary roadways are mostly wet; however some primaries and all other roads are reported as snow covered.  Crews are salting primary and secondary roads.
 The Central District (Kent County) maintenance area is reporting that all roadways are wet, with some said to be slushy.  Primary and secondary roads are being salted as needed.  Further south (Sussex County), roadways are wet as the precipitation there has been in the form of rain.
Rail and Transit systems are operating normally.  The speed limit on I495 has been reduced to 45 MPH, and has been dropped to 40 MPH on the Delaware Memorial Bridge.
 DelDOT crews will continue to respond as weather conditions change.  The National Weather Service continues to forecast "significant snow" later today and tonight for the northern portions of the state and precipitation this evening should change over to snow, accumulating 4-8 inches.  Similar changes in precipitation are expected downstate with an accumulation of 3-6 inches of snow in central Delaware, and 1-3 inches in the southern portion of the state.
 Precipitation could be heavy at times throughout the day, and in northern portions of the state may include a mix of rain, sleet, or snow.  Motorists should use caution and adjust speeds according to conditions.