Category: Safety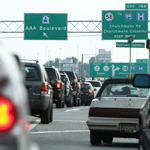 Facebook Twitter Flickr YouTube RSS Feed
Written on: January 3rd, 2014 in Alert Messages, Safety, Weather Related Notices
Dover — With morning rush hour approaching, many roads throughout Delaware are snow covered, despite Deldot crews working through the night. More than 400 DelDOT employees have spent the night plowing and salting roads, and will continue working all day today. Residents are urged to stay off the roads if possible, today, not only because […]
Read More
Written on: January 3rd, 2014 in Alert Messages, Safety, Weather Related Notices
While ice and snow remain on Delaware roads, the Delaware Department of Transportation advises motorists to avoid driving unless they must drive. And anyone who must drive should heed the advice of the AAA: Accelerate and decelerate slowly. Starting or stopping rapidly increases the likelihood that you will skid. Drive slowly. Even at normal speeds, […]
Read More
Written on: January 3rd, 2014 in Alert Messages, Elkton Road, Ellendale, Georgetown, I-95, I-95 Delaware Toll Plaza, I95/SR1 Interchange, Indian River Inlet Bridge, Kent, Milford, Millsboro, New Castle, Railroad Crossings, Route 1, Route 26, Route 40, Route 54, Safety, Sussex, US113, US301, Weather Related Notices
As of 4:30 a.m., the National Weather Service reports that steady precipitation is ending. No new accumulation is expected, although snow flurries could linger for a couple of hours. Temperatures might drop as low as 0 as the day progresses. Temperatures well below freezing and high winds will likely contribute to hazardous driving conditions. Snowfall […]
Read More
Written on: January 3rd, 2014 in Alert Messages, Elkton Road, Ellendale, Georgetown, I-95, I-95 Delaware Toll Plaza, I95/SR1 Interchange, Indian River Inlet Bridge, Kent, Milford, Millsboro, New Castle, Railroad Crossings, Route 1, Route 26, Route 40, Route 54, Safety, Sussex, US113, US301, Weather Related Notices
As of 4:07 a.m., the Delaware Department of Transportation reports that all of its snow-removal crews are active, plowing and salting roads while precipitation continues to fall on New Castle, Kent and Sussex counties. Four to six inches of snow lie upon roads in New Castle . Four to seven inches of snow lie upon […]
Read More
Written on: January 3rd, 2014 in Alert Messages, Elkton Road, Ellendale, Georgetown, I-95, I-95 Delaware Toll Plaza, I95/SR1 Interchange, Indian River Inlet Bridge, Kent, Milford, Millsboro, New Castle, Railroad Crossings, Route 1, Route 26, Route 40, Route 54, Safety, Sussex, US113, US301, Weather Related Notices
As of 12:20 a.m., Delaware roads are covered with snow as deep as four inches in parts of New Castle and as little as half an inch in parts of Sussex. All DelDOT snow-removal crews are busy, plowing snow and spreading salt on primary roads, secondary roads, bridges and bus routes.
Read More
Written on: December 31st, 2013 in Alert Messages, Safety, Weather Related Notices
The National Weather Service predicts that 1 to 4 inches of snow will fall on Delaware roads Thursday and Friday. DelDOT is watching the weather closely.
Read More