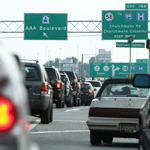 Facebook Twitter Flickr YouTube RSS Feed
SR141/I-95 Ramp Interchange Project
Written on: May 23rd, 2018 in SR141
SR141/I-95 Ramp Improvement Project
May 21, 2018
The contractor, Mumford & Miller Inc., continues to widen the roadway on SR141 southbound and northbound on the closed side of the roadway. They are building the concrete deck for the new SR141 northbound and southbound bridges. They continue to construct the Exit 5 ramp from I295 northbound to SR141 northbound. They are working on installing utility infrastructure through the SR141 and I95 northbound corridor. The contractor is also working to construct the shoulder and barrier on I95 northbound and installing pipe and drainage outlets on SR141 northbound and in the I-95/I-295 Northbound median.
LANE CLOSURES:
Motorists should expect traffic on SR141 southbound and northbound to be reduced to one lane in the construction area during the hours of 9a.m. to 3p.m., Monday thru Wednesday.
Ramp Exit 5B (NB I-295 to NB SR141/Newport) remains closed until spring 2018. Motorists traveling to northbound SR141/Newport should use Exit 5.