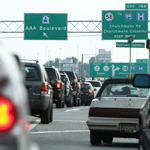 Facebook Twitter Flickr YouTube RSS Feed
SR141/I-95 Project Updates March 30, 2016
Written on: June 30th, 2016 in SR141
I95/SR141 Ramp Interchange Project Update:
Demolition of Bridge Will Require Closure of I-295 & Lane Closures on I-95 Northbound and SR 141 Southbound
WHEN: 8 p.m. until 5 a.m.
Tuesday, March 29 and Wednesday, March 30
WHERE: SR 141 southbound/Basin Road (Bridge over I-95 and I-295) Newport
WHAT: DelDOT's contractor, Mumford & Miller Concrete Inc., is currently demolishing the bridge on SR 141 southbound. At 8 p.m. two right lanes will be closed on I-95 northbound; 8 p.m. I-295 northbound lanes will be closed and all traffic for I-295 will use the Exit Ramp for SR 141 northbound. In addition, one lane will be closed on SR 141 southbound at 8 p.m.
Overall, the demolition of the bridge may take six to eight weeks. Variable message boards will advise motorists of the upcoming lane closures.
During the demolition and construction of this project, there will be periodic lane closures to SR 141, I-95, and ramps.
This project is the first of two reconstruction projects to provide improvements to SR 141 and I-95 interchange, and involves the replacement of the concrete beams, concrete deck, barriers of the bridge, installation of guardrails, and the reconstruction of the roadway approaches.