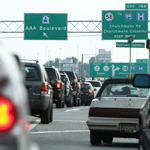 Facebook Twitter Flickr YouTube RSS Feed
Route 54 Holiday Weekend Update
Written on: May 24th, 2012 in Route 54
Today crews are out on Route 54 installing pavement markings (symbols, arrows, stop bars, etc.). This is expected to take 2 days, which will occur today until around noon, and then will resume next week. Crews are also performing some concrete work on the north side of the project, under a shoulder closure.
Also today the contractor will be sweeping the site, cleaning up debris and removing some of the traffic barrels.  Not all barrels will be removed as some will be needed over the next few weeks so the contractor can complete remaining concrete, topsoiling seeding and cleanup work from the shoulder.
It is anticipated that the striping crew and the clean-up crew will be done around noon on May 24, with the concrete crew expected to be completed by early afternoon on May 24.  No work will occur on the site between May 25 and May 28.  This will leave all lanes available for travel this holiday weekend.
The contractor will be back on Tuesday of next week, and will continue with concrete work (driveway entrances, sidewalks, etc.), and some drainage work near Teaberry Woods.  They will also be working on punch list and cleanup of the site. 
This work should not require lane closures and should be completed by end of June, weather permitting.