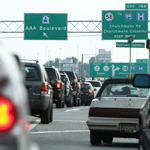 Facebook Twitter Flickr YouTube RSS Feed
All Lanes Open On SR 54!
Written on: May 23rd, 2012 in Route 54
DelDOT announces that all mainline lanes of Route 54 are open and it invites visitors to come to the area this holiday weekend.    In April, DelDOT began working closely with Route 54 business owners and its contractor Mumford & Miller to reach the goal of substantially completing construction on Route 54.  Mainline paving work on Route 54 between SR 20 and the Mallard Lakes development is complete and all lanes are currently open along this corridor to the resort area.  
 Minimal construction signage and materials will remain on site as the contractor will work to complete minor construction tasks after the holiday weekend.