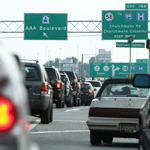 Facebook Twitter Flickr YouTube RSS Feed
Route 54 Project – Updates
Written on: May 11th, 2012 in Route 54
It was a very productive week on the Route 54 construction project this past week, as crews were able to complete the final lift of asphalt, completing the mainline and several turn lanes.
On Sunday, May 6 and Monday May 7, crews paved both the eastbound and westbound lanes of the project including all through and bike lanes.  On Tuesday, May 8, crews completely paved the center turn lane.   This past week the road was temporarily striped in its final configuration. 
As for today, May 10, crews are not paving as yesterday's rain has left pavement wet.  However, tomorrow, Friday, May 11, and early next week crews will be paving the westbound and eastbound turn lanes and side street tie-ins.   This work will require some minimal lane closures on the side streets but two lanes of traffic will be maintained on Route 54 mainline.
Looking towards this weekend of May 12-13, DelDOT and business owners agreed that there will be no paving or other work this weekend.  There will be no lane closures throughout the weekend.
Looking to next week, the contractor will continue to work on paving the eastbound turn lanes, entrances and driveways off of Route 54.  This will require minimal lane closures on the side streets but two lanes of traffic will be maintained on Route 54 mainline.
If weather permits by Wednesday, May 16, the contractor will be installing the permanent lane striping..  Other striping work includes bike symbols, turn arrows, etc. and will take approximately three days to complete.  Through late next week the contractor will continue finishing up concrete, sidewalk and curb work, as well as job site cleanup.  As many signs and barrels and construction materials as possible will be removed.  However, it is noted that not all signs and barrels will be removed, because the contractor will return after Memorial Day to complete punch list items.  We don't believe this work will require lane closures, but will provide notification if this is not the case.
DelDOT believes that all lanes and shoulders should be completed and in final configuration by May 23, 2012, thus allowing DelDOT to reach the goal of substantial completion by Memorial Day weekend.
For more information, please visit the project page.