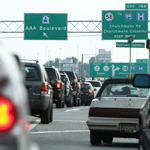 Facebook Twitter Flickr YouTube RSS Feed
Route 54 Project – Updates
Written on: May 3rd, 2012 in Route 54
May 3, 2012 – Progress continued on the Route 54 construction project this past week, as crews were able to complete the second lift of asphalt. 
We wanted to start the final lift of pavement this week as well, but intermittent showers made the operation tentative.  We typically will not start paving the surface course if there is not an assurance of a full day's paving, because we do not want to have to stop the operation.  Every time we stop for the day a joint is required in the pavement which can become a maintenance issue, so we try to schedule the paving such that we minimize the number of joints in the final surface.  We held off on the paving this week, but other work such as sidewalks, form work for driveways, topsoil, and site clearing continued to occur as weather permitted.
In looking ahead to the week of May 7, the ten-day forecast does contain scattered showers, but we are hopeful the contractor can move forward with placement of the final pavement layer.  It is expected that with 4 to 5 full days of paving we should be at a point where all of the travel lanes are completed.
Crews will begin on the northside, and switch traffic as necessary as they move to pave the southside of the road.  We believe we should be able to get a good week's worth of work in the next seven to ten days, weather permitting.  During the paving operation noted above we should be able to maintain two lanes of traffic the majority of the time. 
Once the third lift of paving is complete on the main travel lanes, crews will work on paving turn lanes, development entrances and private driveway entrances off of Route 54.
During our weekly conference call two issues were noted:
The white lines that DelDOT put on the road to make the manholes more visible is working really well.  DelDOT staff explained that the paint actually has small beads of glass in it which makes it more reflective.  
There were concerns with the traffic signal loops not working on the signal at Swan Keys and Keenwik on the Bay.  DelDOT staff explained that the loops will not be put in until the final surface of pavement is placed, and that for now they are likely on a timer. DelDOT staff will investigate to see what adjustments can be made to address this issue. 
We continue to make progress in an effort to reach our goal of substantially completing the project by Memorial Day weekend.
For more information, please visit the project page.