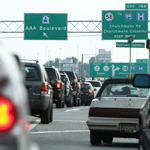 Facebook Twitter Flickr YouTube RSS Feed
I-95/SR 1 Interchange Project – Update
Written on: July 15th, 2011 in I-95 I95/SR1 Interchange
The Department of Transportation (DelDOT) announced that Cherry Hill Construction Company from Jessup, Maryland has officially been awarded the contract to reconstruct and reconfigure the Route 1 & I-95 Interchange. The project is expected to be completed in a little over 2-years, which is a full year earlier than anticipated. Cherry Hill Construction submitted a bid of $85.7 million.  Work is expected to begin in early September 2011. To mitigate traffic impacts, the contract was procured using an A + B bidding format. The contractor bids his proposed construction costs (the "A" Portion) and his proposed contract duration in calendar days (the "B" Portion) when he submits the bid. The number of calendar days is then multiplied by a user cost (determined from a user delay calculation that takes into account traffic, potential detours, delay impacts etc). The Department determines the best value by combining the construction costs and the dollar value of the time. The contractor is only paid the "A" portion for the work performed and is held to the "B" portion for a completion time.  This major project will add high speed connecting ramps from both northbound Route 1 to northbound I-95 and from southbound I-95 to southbound Route 1. This work is the last phase of a multi-year, multi-project Interstate Improvement Program that has included work at the Churchman's Road and Route 7 Intersection, the replacement of the Churchman's Bridge over I-95; the fifth-lane widening project, and the reconstruction of the I-95 Newark Toll Plaza.
Christiana Mall Bridge
H-piles for the center pier footing will be installed this week.  The bridge deck rehabilitation work along I-95 over SR 1 for Bridge 716 will continue the week of July 11 using nighttime lane closures in the SB I-95 direction.  SB SR 1 will be closed at the I-95 interchange for bridge painting containment installation and structural repairs on the SB SR 1 piers.  The project is currently on schedule.  Work is scheduled to be complete on this project at the end of the year.