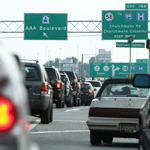 Facebook Twitter Flickr YouTube RSS Feed
I-95/SR 1 Interchange Project – Update
Written on: April 21st, 2011 in I-95 I95/SR1 Interchange
Christiana Mall Bridge:
Work started at the beginning of March to construct a new bridge spanning SR1 that will ultimately serve as a new entrance to Christiana Mall once completed.  This project is part of the larger mall interchange project that is currently out for bid.  The contractor is currently constructing storm water management facilities and starting pile driving for new bridge foundations.  Work is scheduled to be complete on this project at the end of the year. 
For more information, please visit the project page by clicking here.