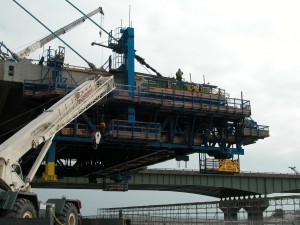 Construction: Spring will be a busy time of year at the bridge. Both form travelers are now in service. On the north side of the inlet we already poured one 24' deck section, and are in the process of pouring the next section. The first 24' section on the south side of the inlet has also been completed. Every few weeks, an additional 24 feet of bridge length will be completed by each form traveler. A total of 12 segments, each 24' in length, will be constructed from each side of the inlet while utilizing the form travelers to help span the inlet. New sets of stay cables will continue to be installed with each new 24' section of bridge being constructed by the form traveler. Proper stay tensioning is critical to the support of the 300 ton form traveler system and the newly constructed bridge deck sections.
Roadway Approach/Bridge Demolition:   George & Lynch will start work on the Roadway Approach/Bridge Demolition contract at the end of March.  There will be detailed communication and coordination between DelDOT, Skanska and George & Lynch along the way. In March and April, George & Lynch will be preparing the approach area for a new traffic pattern.  This new traffic pattern will consist of one lane in each direction over the existing bridge and will be in place by Memorial Day.  This traffic pattern will allow the new SR 1 approaches to the new bridge to be constructed.
Open House:  DelDOT will once again be hosting an open house to allow the public to come and see the progress being made on the bridge construction.  Check back often for details of the Open House that is tentatively scheduled for April 30th.
Site Tours:  DelDOT is resuming its public and school site tours this spring, so give us a call or email today to check availability and to schedule a site tour for your group.
Construction Advisory Group Meetings:  Stay informed about bridge construction activities this spring and summer by attending a Construction Advisory Group Meeting.  Meetings are held the last Monday of each month at 10:00 a.m. at the DelDOT Field Office. If you can't attend, be sure to check out the minutes of each meeting here on the website.