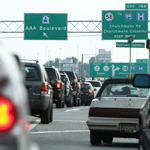 Facebook Twitter Flickr YouTube RSS Feed
What's Happening At The Indian River Inlet Bridge – February 2011
Written on: February 15th, 2011 in Indian River Inlet Bridge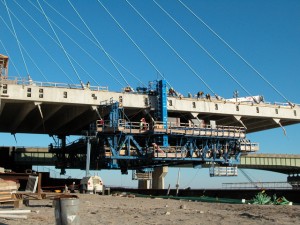 Construction: The next several months will consist of regular concrete pours as Skanska continues the process of building the bridge deck over the inlet. Every few weeks, an additional 24 feet of bridge length will be completed with each form traveler. As the bridge deck is built, temporary and permanent stay cables will continue to be installed and tensioned to provide sufficient support to the traveler and the newly constructed bridge deck sections. While progress may appear slow during this time, there will be a tremendous number of critical, but less visible, activities being performed on a daily basis in support of these construction operations.
Roadway Approach/Bridge Demolition: In addition, DelDOT recently announced the award of the Roadway Approach and Bridge Demolition Contract which will include the completion of the roadway approaches up to the new bridge. The contract will also include the demolition and disposal of the existing Indian River Inlet Bridge. See the press release for further details.
Site Tours: DelDOT will also be resuming its public and school site tours this spring, so give us a call or email today to schedule a site tour for your group.
Construction Advisory Group Meetings: Stay informed about bridge construction activities this spring and summer by attending a Construction Advisory Group Meeting. Meetings are held the last Monday of each month at 10:00 a.m. at the DelDOT Field Office. If you can't attend, be sure to check out the minutes of each meeting here on the website.
There has been a good deal of activity at the bridge construction site in early 2011. Additional cables have been installed on the main span of the bridge, the transition piers are being constructed, the last of the precast concrete girders have been installed, the form travelers have been lifted and fully launched, and the first concrete pour on the north side form traveler has been completed.