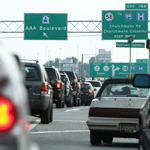 Facebook Twitter Flickr YouTube RSS Feed
What's Happening Now At Indian River Inlet Bridge – January 2011
Written on: December 28th, 2010 in Indian River Inlet Bridge
Form Traveler Launches!
As we move into 2011, we will find the northside form traveler is being launched and attached to the bridge. The southside form traveler will be launched in January. These travelers will be used to construct the concrete bridge deck segments that cross the inlet. The first concrete pours will occur in early 2011.
Because this is a design-build contract, certain assumptions were made concerning the form traveler prior to the entire bridge design being completed. Through the quality control process, it was discovered that some of the assumptions made very early in the design process no longer held true. Therefore, the form traveler had to be retrofitted after it was initially assembled. This retrofitting has caused some delay to the completion of the overall project, but Skanska continues to make good progress.  It should also be noted that since the price of the design-build contract was set when the contract was awarded, these in-the-field changes are at no additional cost to Delaware taxpayers.
As a note of reassurance, multiple design teams reviewed the form traveler design and erection sequence to ensure that the traveler will perform as expected, with the utmost consideration for the safety of the construction workers and visitors to the Delaware Seashore State Park.
Also to note, a protected pedestrian walkway was built along the north and south sides of the inlet to protect fisherman and pedestrians from work occurring overhead on the form traveler. Safety is always first on any project, but is especially important when working over an active pedestrian path.
Cable Installation
To date, 60 of the total 152 stay cables have been installed. These cables are encased in the blue plastic casing that the public selected in April 2009. As the cables are installed and tensioned, they begin to carry the weight of the superstructure. In fact, some of the supportive false work structure underneath the bridge has been removed.
Transition Piers
There are currently two sections of the roadway that have not yet been constructed, leaving "gaps" in the approaches to the inlet. These areas are known as the transition piers. The transition piers anchor the longest stay cables and also connect the cable-stay supported portion of the bridge to the more traditional pier-supported section.  This involves some complex construction activities, as well as the need for cast-in-place concrete. The transition piers are intentionally the last areas of the bridge to be constructed.
Concrete Deck Repair
Repairs to the isolated deck cracking near the north and south pylons that occurred over the summer are completed. These areas will be receiving a final overlay (riding surface) as part of the scheduled construction, therefore the integrity of the deck will be fully restored prior to placing the bridge in service.
Completion Date
The bridge is expected to open to traffic by end of 2011, barring no extensive inclement weather.