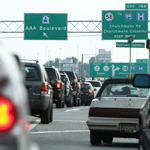 Facebook Twitter Flickr YouTube RSS Feed
Indian River Inlet Bridge – What's Happening Now (Fall 2010)
Written on: December 16th, 2010 in Indian River Inlet Bridge
 Construction continues on the new Indian River Inlet Bridge. Three main activities will be occurring on site this month – stay cable installation, transition pier construction and the launching of the form traveler.
Stay Cables
Initial stressing of the stay cables (the blue cables that support the bridge) for several stays is complete. The bridge builders continue to work on the remaining stay cables. This involves threading the cables through a blue tube which ultimately will be appropriately tensioned to hold up the superstructure.
Transition Pier
Work continues on the transition piers (where the approach spans connect to the main span of the bridge) on both sides. In the coming months this portion of the bridge will be constructed, and cable stays will be anchored in the edge girder along the outer edge of the structure. This is a complex portion of the construction contract as it is entirely cast-in-place concrete. The transition pier not only anchors the longest stay cables in this area, but it also supports the adjacent approach span. Likewise, concrete pours will continue to occur for the approach spans on the southside of the bridge.
Form Traveler
The bridge team is also hard at work on the form traveler construction. Crews are currently anticipating the launching of the form traveler and its placement on the bridge over the inlet. This piece of equipment will permit construction of the bridge deck over the inlet. We anticipate launching the travelers in the coming weeks. 
Concrete Repair
Deck crack repairs near the north and south pylons started in September and are completed. The repairs are going well. The integrity of the deck will be fully restored prior to placing the bridge in service. There have been no further issues with concrete cracking. It is also important to note that the repair work has had no impact on the schedule.