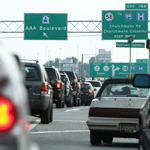 Facebook Twitter Flickr YouTube RSS Feed
I-95 Delaware Toll Plaza Project Updates
Written on: October 21st, 2010 in I-95 I-95 Delaware Toll Plaza
The Delaware Department of Transportation's Office of Public Relations has established this blog to create another line of communication with the public.  The blog will focus on the work that is currently underway at the I-95 Toll Plaza in Newark and will include information on construction updates, lane closures, etc.
Because of the project, heavy construction conditions exist at the toll plaza. When completed in late summer 2011, the toll facility will have two highway-speed E-ZPass lanes in both directions. Motorists using E-ZPass will be able to drive through the facility at normal highway speed with no delays in travel.
During this project, the number of toll booths has been reduced to facilitate construction. Delays have been, and will continue to be, substantial, especially during weekends and holidays.
With the upcoming Thanksgiving and Christmas holiday seasons, it would be advisable for motorists to be prepared for further delays and backups.
DelDOT is advising travelers and commuters to consider alternative travel times during these peak holiday travel periods.
Please be sure to check back here to see any new information or to see what closings may be occurring in the future.
For more information, tune to 1380 AM (in Delaware) or go to i95.deldot.gov.  To sign up for E-ZPass, visit http://www.ezpassde.com/ or call 1-888-397-2773.